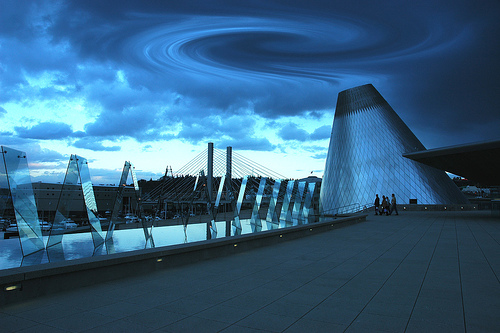 Today's post is by Nick Barber who works for UK discounting site VoucherCodes.co.uk
Personal finance has moved on and people are now roughly separated into two groups; those that are savvy online and those that are not.  There is a myriad of tips of tricks beyond the usual blanket "buy online" advice that can slash your usual monthly spend painlessly by about 20%.  These personal finance tips however can be leveraged in the worlds of investing and of small business too so you offset the hefty start-up costs that are often incumbent on the budding entrepreneur.
Before you know where you are going to make savings however, you need to know exactly how your finances are shaping up. In recent years there has been a proliferation of online software packages that will help you keep your bookkeeping in order. Mint is a great example. Once you sign up and enter your details, it will automatically pull in your balances from different accounts, updating in real time, so you can always keep on top of how much you are laying out each month. This information can then be used in conjunction with their budgeting software and there is even functionality to check how your investments are doing.  What is more – it's completely free!
The second tip for knowing where you stand financially is to check your credit report. Your credit report is, put simply, a record of all the debts you have taken out in the last 6 years, right down to cell phone contracts, as well as a record of how well you have managed to repay them. Experian offer a free credit report when you register with them. It is essential to check for mistakes – which happen more regularly than you think. Even the smallest error can reflect badly on you which is especially important with banks having access to your records. If it seems you have missed just a few payments, this can result in a much higher rate of interest on your mortgage and other borrowings. Correcting mistakes can result in savings of hundreds of dollars a month; as well as opening up more finance to you.
Now you know where you stand; it's time to make savings. One painless way is to use online coupons which became something of an online phenomenon in 2009. They are, in a nutshell, a revamp of the old cut out coupon.  In the main they are offered on a B2C basis. However FedEx, Dell and many stationers offer such codes which can lead to reductions of anywhere up to 50% when setting up a small business of a home office as a hub to run your investments from. A simple Google search for "Coupons" will bring up lots of sites dedicated to bringing together such discounts in one place.
If you are new to investment too there are many financial spread sites offering sign up bonuses. So long as you remain disciplined, this can give you a great introduction to get the feel for the markets with no risk. TradeFair – part of a British company that has won numerous awards including the coveted Queen's Award for Enterprise – are offering a £100 ($160) sign up bonus, and will send you introductory guides to spread betting as well as having many introductory materials around their site.
Lastly, if you looking to make the jump from amateur investor to becoming self employed, or even if you are just looking to ramp up your investing activities then you will no doubt be looking at a fair bit of admin work too. However, recent years have seen the rise of "virtual PAs". These are companies of remote personal assistants who will complete admin tasks you send to them.  They can usually be hired on an hourly basis so can provide very flexible work that can be invaluable when just starting out. Similarly if you are looking to research an investment then Amazons "Mechanical Turk" could be the answer. This service gives you access to a scalable workforce. You simply load in the task you want such as "Information on X business' financial results", and set the price you will pay for each piece of information (often just cents per item).  Combined these two tips can give you access to resource that can be unlocked at any time you need for a very cheap price; a hidden army for the new entrepreneur.
All in all a little bit of web knowledge can help you cut costs and increase resource at the same time, so you can put yourself in the best possible position whether you are a seasoned pro of the investment world or just starting.
Photo Credit: Wonderlane