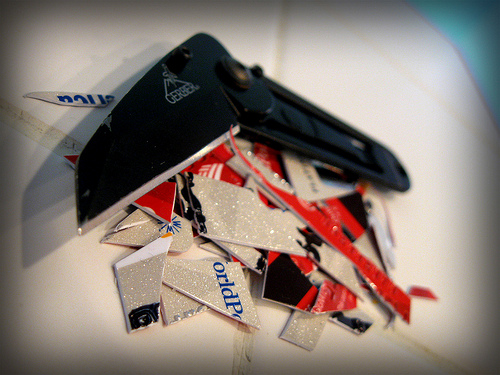 Photo by: kainr
People get into debt in a variety of ways.  Some people have medical problems or other things that are largely beyond their control.  Others have simply traded their future earnings for current creature comforts.
While the ways in which people get into debt are varied, the ways out really aren't.  A lot of people try to make debt reduction complicated.  It isn't.  There are a few basic moves that will get you out of debt, but they're predicated on being realistic, accepting that you've already had more fun than you've earned, and it's time to redress the balance.  Even if your debt is the result of things beyond your control, here's some basic advice for those who feel like it's time to be realistic about how to get out.
Cut Your Expenses
So you have a certain standard of living you'd like to maintain?  Too bad.  When you're in debt, every dollar you spend costs you that dollar, plus all the financing costs until all your debt is paid off.  Let's take a simple example.  If you have a 20% APR credit card and it's going to take you 3 years to pay down your debt, every dollar you spend is actually costing you over two dollars.  That's without taking into account the fact that a penny saved is more valuable than a penny earned after taxes.  That five dollar burger is now going to cost you ten dollars.  While this ignores the effect of inflation, you get the point.  Putting that dollar towards debts was the better move.
Get a Second Job
Many people are very concerned about their free time.  If you have debt, you've already spent your future free time.  When you bought that flat screen TV on your credit card, you were trading your future free time for a TV.  Doesn't seem like such a good trade now?  Imagine the impact of another twenty hours of work on your ability to pay off your debts.  Assuming you're at least in the black and slowly paying down your debts, you can put every penny you make at your second job toward your debts.  While you'll lose some free time, you'll reduce the stress that all that debt is putting on you. (more…)