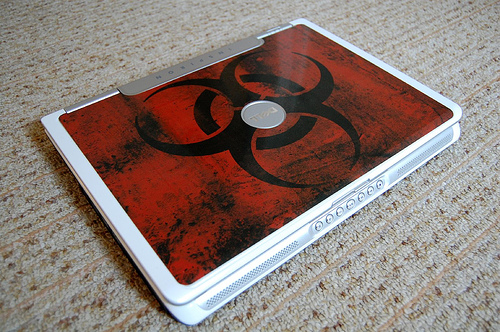 Photo by: Vinay Deep
For decades now the American approach to debt has been to worry about it later.  We've essentially kicked the problem down the road.  While some points in our history may have suggested somewhat higher debt levels, we've done nothing to reduce them in more booming times.  Ultimately we've just turned a blind eye to a growing problem and it may be too late. 
Many people are talking about moral hazard these days, but strangely they all seem to think it's something that applies to someone else.  Bailouts of millionaire bankers strike us as outrageous, while we personally hold an absurd amount of debt.  Somehow the country got all screwed up without any of us being at fault. 
Our politicians seem to suggest that their opponents are the ones rewarding negative behavior and that they themselves would never commit such an act.  This doesn't hold up to much scrutiny however.  Throughout the booms of the previous decades, neither Democrat nor Republican has ever used fiscal policy to "cool down" a boom.  Nor have they used any of the booms to reduce our debt to increase our capacity to deal with the next bust.
Clinton was just beginning to talk about reducing the debt when the Internet bubble burst.  Bush managed to go through a massive housing bubble while growing the national debt by over 4 trillion dollars.  Government has simply never shown any discipline in managing its budgets.  Unfortunately, this is not only true of the government.
Short Term Myopia
Americans and people in general have a tendency to look at a very short sample space and assume that the results they're seeing are meaningful.  Ten years is a long period of time in a human life, so if something has held true for the last decade, it must be true, the thinking goes.   Unfortunately those ten years are actually quite a short time in the life of an economy.
So many times in history we've been told that "things have changed."  Something has fundamentally shifted and the old rules don't apply anymore.  For the last decade, people watched their 401(k) accounts grow by double digit figures each year and they just came to assume that this was a sustainable result.  Similarly they've leveraged themselves to the hilt and assumed that since they've been able to sustain themselves with this massive debt they'd be able to do so in the future.  Sadly, this is an untenable ponzi scheme.
Total Credit Market Debt
Since the introduction of the credit card, Americans have developed a taste for debt.  As the National debt has grown over the past decade, household debt has skyrocketed right in step.  Total credit market debt has gone from roughly 1.5 times GDP in the 80s to over 3 times GDP today.  This means that we essentially owe more than three times in debt what the country makes in a year.  With GDP likely to fall in the near term and massive government spending, this situation is unlikely to be corrected.
As we've been growing this debt in the personal sector, the financial sector and the government sector, we've been assuming we'll straighten it out in the future.  And many people haven't thought about it at all.  Fundamentally we have to know that we're making bad decisions, but everyone else is doing it and it hasn't turned out badly for them. 
For decades now we've been growing the problem and pushing the problem into the future; each time we postpone a solution, the eventual bill to pay becomes more and more grim.  We continue rewarding the people who make bad decisions and punishing those who don't.  We never want to take the short term pain, so we reinforce the moral hazard and hope that sometime in the future we'll come up with a magic solution to the monster we've grown over the past decades. 
Ultimately all we've been doing is saving up pain.  For a while it looked like we'd finally have to take our medicine when the credit crisis hit.  But through stimulus and unprecedented government action it seems like there is a possibility we've pushed off the reckoning a little longer, making it all the worse in the process.  The only question is: have we already run out of rope with which to hang ourselves.