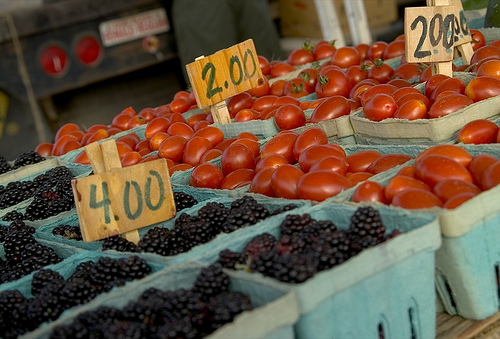 Photo by: ellievanhoutte
Laying some groundwork for a future post, I wanted to have a quick discussion about a topic that amazes me as a complete disconnect between reality and policy.  Price controls have been suggested as solutions for everything from food shortages, to black markets during sieges; but they have an amazing history of achieving the exact opposite of their intent.  In a recent example, Hugo Chavez has attempted price controls in Venezuela, with disastrous results. Before I start talking about some other policy issues, I want to make sure that we all agree that price controls simply do not work.
What are Price Controls?
Price controls are when some entity, typically a government, tries to externally set the price of something.  We most often see this in the form of price ceilings where the government tries to set the maximum price producers can charge for something.  One very common example of this is rent control.  The government doesn't want property owners "gouging" their tenants, so they set a variety of rules on what the landlord can charge. As we will see, this never has the desired effect.
Keeping It Simple
What price controls advocates never seem to accept is that changing the price of something doesn't affect the supply of that thing.  The government can say that all Ferraris only cost $50, but that doesn't mean everyone can have a Ferrari.  In fact, Ferrari will immediately stop producing them.  The purpose of markets is to make sure that resources get to the people who want them the most.  Keeping prices low leads to overconsumption, inefficient allocation of resources, discrimination, and disincentive to increase supply.  Let's look at some simple examples:
Overconsumption
Imagine that there is a shortage of milk.  If prices escalate to high levels, people will only use milk when they very much need it and can't find alternatives.  If prices are kept artificially low, people will consume it in cases where it is not absolutely necessary.  Obviously this will only exacerbate the problem of the shortage.
Inefficient Allocation
Suppose we have a copper shortage in this country and copper producers are charging what the government deems an unfair price.  We have two factories who want to use the copper to make wire.  One is much more efficient than the other and can produce more wire with the same amount of copper.  Obviously since Factory A can make more wire with the same amount of the scarce copper, it's good for everyone except the owners of Factory B if all the copper goes to Factory A.  But if someone intervenes and keeps copper prices low, Factory B can stay in business and now we have copper being wasted, because Factory B can afford to keep wasting it.
Discrimination
If I can only sell my products at a given maximum price, then I'm going to use other characteristics to decide to whom I sell.  Since I'm not determining on price, I can choose based on race, gender, nepotism, or whatever other unsavory criteria I wish to apply.   This may also include under the counter payments or other things that subvert the intention to begin with.
Disincentive to Increase Supply
In our example with copper, price controls also create situations where we won't extract copper that would be more profitable without price controls.  If the prices are kept at lower levels then people won't build new mines, which will keep supply down and prices up.  If copper costs $25 per ton to extract and I can only sell it for $20, I won't bother mining it.
Rent Control – A Prevalent Example
Rent control is a particularly galling example of these issues.  With a bit of thought you can see all the examples of the problems of price ceilings.  There is obvious overconsumption – if someone who earns less money wants to live in a certain neighborhood, they get roommates because they can't afford to live there.  Thus two people are making use of the same dwelling.  If the prices are kept unnaturally low, they don't have to get roommates and the same amount of people are consuming more available housing.  This also leads to inefficient allocation where people are unable to live in their ideal locations due to overconsumption.
Rent control obviously makes it less appealing to own rental properties where you are not allowed to charge what you like for use of your property.  It makes it less appealing to build new properties as well, so the supply of property will stay low, keeping rents high.  There are also many cases of discrimination and abuse, where landlords who can't get additional money for their apartments choose instead to rent to celebrities.
The Moral Issue
The debate about price controls always gets high jacked by those who advocate for it.  I am not suggesting that the aim of affordable housing is undesirable; I'm suggesting that rent control achieves the exact opposite of its intended goal.  Somehow this suggestion always gets painted as callousness towards those with lower incomes, when in fact it is the exact opposite.
The usual intended goal is to increase diversity in these areas by keeping rents affordable, as if people can't get roommates or find other ways to live where they want.  Even if you accept that rent control works, which it does not, there is still a further moral issue.  You are essentially deciding that you as the government want diversity and that property owners should pay for it.  If the government wants diversity, why not subsidize it with government money instead of appropriating a land owner's property.  The subsidy will increase spending on rents, making it more profitable to own property, which will have the opposite effects of those of rent controls.
Assar Lindbeck, a Socialist mind you, once said, "In many cases rent control appears to be the most efficient technique presently known to destroy a city-except for bombing.")  While obviously that's hyperbole, it speaks to the oddity of continuation of the policy with no substantive evidence that it works.  Ultimately I am patiently waiting for someone to explain to me the examples of price controls that have worked.